The Australian Diabetes Educators publication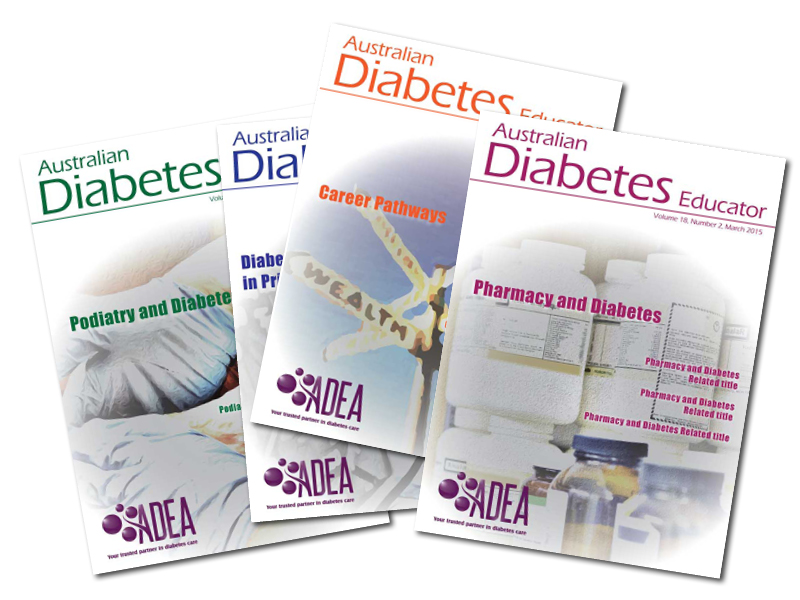 The Australian Diabetes Educator (ADE) is a quarterly publication produced for members of the Australian Diabetes Educators Association (ADEA) and is available on the ADEA website. The publication is distributed to a readership of around 2,100 ADEA members, subscribers and authors.
ADE readership is primarily Credentialled Diabetes Educators but also includes multidisciplinary health professionals such as Registered Nurses, Endocrinologists, Podiatrists, Dietitians, Medical Practitioners, Pharmacists, Exercise Physiologists. It is designed for people actively working with people with diabetes in a wide variety of settings.
Evolved from the ADEA Newsletter, with the first edition in July 1982, the ADE aims to inform, inspire and motivate ADEA members in order to assist in the standardisation and quality of diabetes education and care. It is intended to increase knowledge and promote best practice as well as support better self-management for people with diabetes and their carers.
For 2017, the ADE Publishing Team will work with our authors and partners and plan to introduce the following themed editions:
ADE March: Diabetes through the lifespan: from children to the elderly
ADE June: Diabetes and technology
ADE August: Diabetes-related complications
ADE November: ASM round-up
Please visit https://ade.adea.com.au for more information.